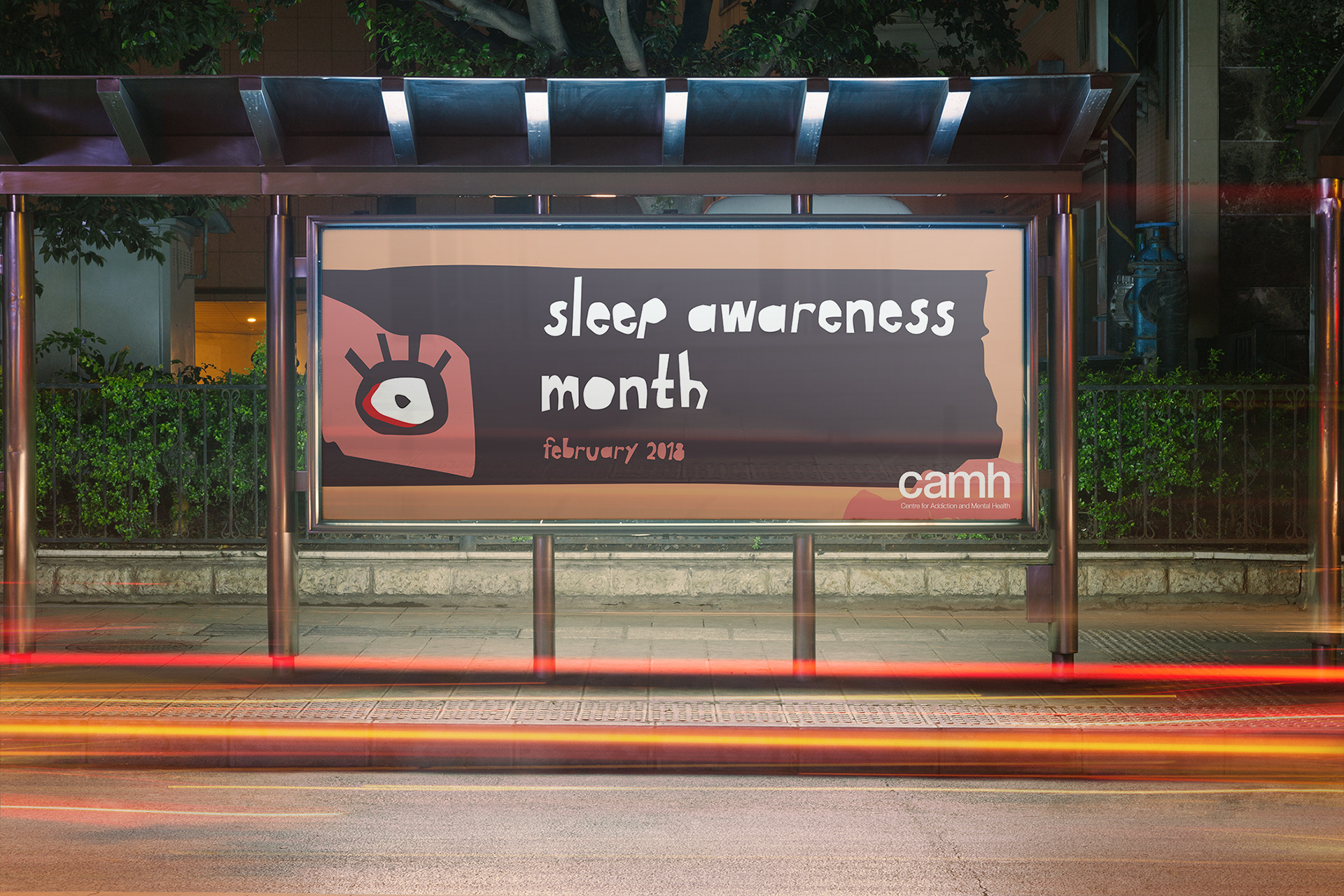 branding + campaign design
camh: sleep awareness
This project was designed to help better understand systems designs and how brand guidelines can be formulated and used in order to create a complete brand. The challenge was to create a branding for a fictional campaign that can translate into a wide variety of mediums, while still maintaining enough similarities and differences to fit together as one brand.
This is a campaign idea to bring awareness to sleep deprivation and its' impact on human health. A systems design is used to make all the different pieces of design feel unified—the design pieces all have the same colour palette, art style and typeface. The art style creates an aggressive, yet innocent voice because it uses a "cut-and-paste" craft style which gives the feeling of innocence, but at the same time the graphics themselves as well as the jaggedness in the shapes of the ripped pieces give off a feeling of aggression. The intent is to get people to understand how something as innocent as sleep can be very important to human health.

The brand extension pieces designed for this campaign are a sleep guide brochure with facts about how to improve quality of sleep, subway poster ads, a facebook event page, sleep diary and campaign merchandise (t-shirts and buttons). All these designs fit as a brand by following the brand guidelines established at the beginning of the project.
>illustrator 
>branding designer 
>typeface designer 
>layout designer 
>researcher 
>content creator
>copywriter
>research + concept development 
>design solution for issue 
>systems design 
>brand extension 
>following brand guidelines 
>material exploration 
>typographic voice 
>layout + compositional design
>organization 
>project management 
>communication 
>illustrator 
>photoshop 
>indesign 
>scanner 
>paper